Walt Disney Death Announcements and Cartoons – He Died on This Day
When Walt Disney passed away on December 12, 1966 the world mourned for the loss of one of the most creative and visionary men of the 20th century.
It is difficult to imagine how the world would be different if Walt had lived past 65 years old. He was in the middle of projects to change the way we live as a society with a true Experimental Prototype Community of Tomorrow and further dreams of changing the world.
The day of his death is capture below in cartoons and newspaper clippings of quotes. I return here each December 15 to think about the impact that someone can have on the world.
Walt Disney Death Cartoons and Quotes
Here are some cartoons that appeared the day of Walt's death.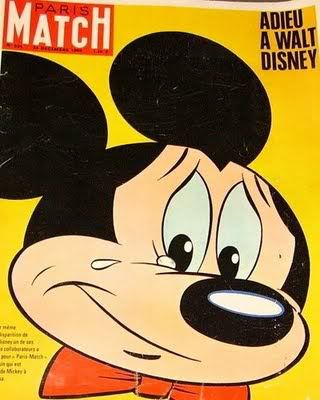 And now some writing about Walt and his wonderful life:
Walt Disney, who built his whimsical cartoon world of Mickey Mouse, Donald Duck and Snow White and the Seven Dwarfs into a $100-million-a-year entertainment empire, died in St. Joseph's Hospital here this morning. He was 65 years old.
His death, at 9:35 a.m., was attributed to acute circulatory collapse. He had undergone surgery at the hospital a month ago for the removal of a lung tumor that was discovered after he entered the hospital for treatment of an old neck injury received in a polo match. On Nov. 30, he re-entered the hospital for a 'post-operative checkup.'

Just before his last illness, Mr. Disney was supervising the construction of a new Disneyland in Florida, a ski resort in Sequoia National Forest and the renovation of the 10-year-old Disneyland at Anaheim. His motion-picture studio was turning out six new productions and several television shows and he was spearheading the development of the vast University of the Arts, called Cal Art, now under construction here.

Although Mr. Disney held no formal title at Walt Disney Productions, he was in direct charge of the company and was deeply involved in all its operations. Indeed, with the recent decision of Jack L. Warner to sell his interest in the Warner Brothers studio, Mr. Disney was the last of Hollywood's veteran moviemakers who remained in personal control of a major studio.

By Marty Sklar
You should also enjoy this brief story from writer Ray Bradbury on his friendship with Walt Disney and the days after he died.
If you haven't consider a trip to the Walt Disney Family Museum. They provide an incredible look into Walt Disney's life. The final gallery sharing reactions to Walt's death is a tear-jerker.
Walt Disney created an incredible company and made and indelible mark on our country and world.