Top 8 Disney Plus Original Shows We're Most Excited For
Disney's new streaming service Disney+ will launch November 12th in the United States with the price of $7 per month. The timing and price are quite competitive with other popular streaming services like Netflix and Hulu. Disney is counting big on this service paying off with an exciting number of original shows coming to the streaming service along with Disney classics, Marvel and Star Wars films, and the entire Simpsons series.
Why Wait to Save? Discount Disneyland and Walt Disney World Tickets + Combo Hotel Deals! Don't wait to get your tickets to see Star Wars: Galaxy's Edge! Book your ticket and hotel through our recommended travel sponsor Get Away Today and save on ticket prices, hotel stays, receive free perks like free breakfast, parking, free night stays, and more at select hotels. Book now!
The Disney+ originals that have been announced so far are connected with existing and beloved franchises along with stand alone originals that are sure to appeal to a wide variety of Disney fans. Here are the top 8 Disney+ originals we are the most excited for!
1. The Mandalorian
The Mandalorian is number one on our list as the first live-action Star Wars show that Disney has announced for Disney+. The series features well-known directors from the Iron Man, Star wars Rebels, and Clone Wars films/tv shows. The series plot will follow a Mandalorian (the race Boba Fett belonged to) as he goes to the outer rim of the Galaxy after the fall of the Empire but before the rise of the First Order.
And for fans of Star Wars: The Clone Wars, that show will be brought back for a final season on Disney+ and will pick up where the series left off before it was canceled.
2. Rogue One Prequel Series
A Rogue One prequel series was recently announced and will star Diego Luna from the Rogue One movie. Also returning is Alan Tudyk as K-2SO- a popular and sassy mouthed droid. Since we got such a limited time with these beloved characters in Rogue One, along with the film's popularity, it makes sense that Disney would want to dedicate more screen time to these characters.
3. WandaVision, The Falcon and Winter Solider, Loki, and Hawkeye
Marvel is going to be a big presence on Disney+ with at least four shows coming to the platform along with two documentary style series. These series will actually star actors from the film like Wandavision which will feature Elizabeth Olsen as Scarlet Witch and Paul Bettany as Vision.
The Falcon and Winter Solider will also feature the original actors from the MCU taking up their respective roles. Details are scarce for some of these projects but it's promising to see all the original actors and actresses for these characters have signed on.
Don't forget about our favorite trickster! Loki is also said to be getting his own series on Disney+ with Tom Hiddlestone reprising his role. Hawkeye will also be featured on Disney+ with original actor Jeremy Renner reprising his role as well. But rumor has it that he will pass on the Hawkeye title to Kate Bishop- his successor in the comics.
4. Marvel's What If…?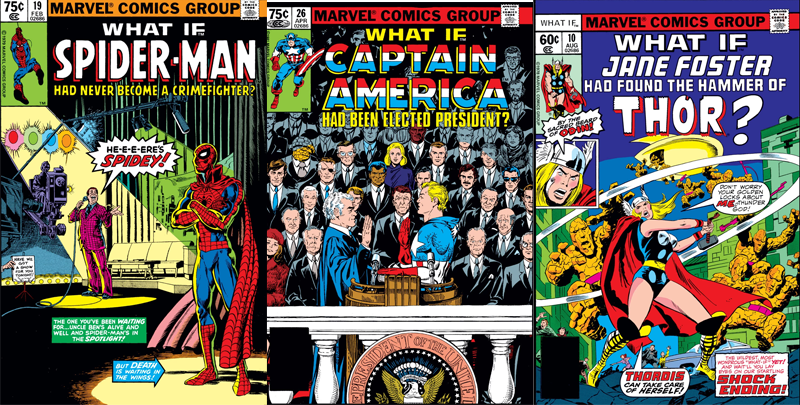 Marvel's What If…? will be the MCU's first animated series and is coming to Disney+. This series is inspired by the comics of the same name and will show alternate histories and outcomes in the MCU. What if Spiderman joined the Fantasic Four? What if Peggy Carter got the super-serum instead of Steve Rogers? What if Jane Foster had found the hammer of Thor? There's an entire comic series devoted to these questions so Disney has plenty to work with for this series.
And that's not the last Marvel themed series coming to Disney+! There will also be two Marvel related documentaries: Marvel's 616 will discuss the history and societal context of classic Marvel stories and Marvel's Hero Project will focus on real life heroes doing heroic things in their communities.
5. Disney Imagineering Docuseries
Back in November, Disney CEO Bob Iger announced that a new docuseries featuring Walt Disney Imagineering would be joining the Disney+ streaming service and would be accompanied by other content targeting "core Disney fans." Walt Disney Imagineering is the group responsible for theme park development of all the Disney resorts around the world and was originally formed in the 1950's. We've been looking forward to this Disney Imagineering Docuseries since its first announcement and we can't wait to see what it's in store when it comes to Disney+.
6. Monsters At Work
The animated series Monsters at Work will take place in the world of the Monsters Inc. franchise and will be set six months are the events of the original film. Billy Crystal and John Goodman will reprise their roles as Mike and Sully- much to the delight of Pixar fans. The show will feature a new monster named Tylor Tuskmon (voiced by Superstore's Ben Feldman) and his quest to join Mike and Sully on the laughing floor.
7. Book of Enchantment
Those poor unfortunate souls…
Or… extremely fortunate and spoiled Disney fans? There will also be a series titled Book of Enchantment about the classic Disney Villains based on the book series by Serena Valentino. The book series focused on Ursula, the Evil Queen from Snow White, and the Beast from Beauty and the Beast. It will be interesting to see how they incorporate the Beast considering he is a later regarded as a hero- not a villain. I'm all here for this though as long as it has my main gal, Ursula!
8. Forky Asks a Question
This live-action series stars everyone's new favorite spork- the new character from the Toy Story 4 movie. In this series he will ask real life questions about the world and take guests on an a Disney style educational journey.
Other Pixar themed series coming to Disney+ include Lamp Life which is an animated series about Little Bo Peep's life in between Toy Story 3 and 4. Sparkshorts is going to be another Pixar series and will include a collection of Pixar shorts.
Planning a Disney Parks Vacation?
Make sure to head over to MickeyVisit.com and read our blog to keep you updated on everything you need to know to prepare for your vacation! We have a team of writers working hard to keep you updated weekly on events in the parks and tips for navigating the magic. Subscribe to our free deals newsletter to receive helpful planning information, exclusive Disney deals, and access to the lowest priced Disney tickets anywhere. You can find more information on planning your vacation here: