Top 8 Things to See this Summer at Disneyland!
There is so much to look forward to this summer at the Disneyland resort including new rides, new themed lands, food, and entertainment options! Here are eight things at the top of my list to see this summer at Disneyland.
SAVE BIG ON DISNEYLAND PACKAGES! Our travel partner has huge savings of more than $500 for travel January-June. Save when you book both yur hotel and tickets. Save big and buy now! Book Your Package Now>
1. Star Wars: Galaxy's Edge at Disneyland
Star Wars: Galaxy's Edge opened in May at the Disneyland Resort and the response has been overwhelmingly positive. This 14 acre new land is an experience in itself that seeks to immerse guests in the world of Star Wars. With one ride open now, Millenium Falcon: Smuggler's Run, and another set to open later this year there's so much to look forward to. Guests can build lighstabers and become one with the Force at Savi's Workshop, enjoy a drink inside Oga's Cantina, adopt a creature or build a droid, and so much more. The reservation only period ends June 24th and this land is the big highlight for many guests coming to the parks this summer. Check our full guide for land reviews, information, and strategies.
2. Disneyland Forever Fireworks at Disneyland
The Disneyland Forever fireworks first debuted with the Disneyland 60th anniversary and features music from popular Disney films with projects throughout the park along with props on Main Street, U.S.A. You can expect to see music from Mary Poppins, Tangled, Winnie the Pooh, Lion King, Jungle Book, The Little Mermaid, and Frozen. This show comes with its own original opening and closing song and was a guest favorite during the 60th anniversary. I'm looking forward to seeing it myself this summer!
3. Mickey's Soundsational Parade at Disneyland
This high energy parade comes with a great music set featuring well loved Disney favorites like Minnie, Pluto, Aladdin, The Lion King, and The Little Mermaid. The parade returned this year with the Mickey celebration that just concluded in early June but the parade is here to stay for the summer! This is one of my favorite parades in Disneyland as I feel it embodies such classic, Disney happiness from the original characters it has to the music they play. It's a must see for this summer at Disneyland.
4. Inside Out Emotional Whirlwind at California Adventure

The old Flik's Flyers from Bugs Land has been moved and redone into Inside Out Emotional Whirlwind to fit the theme the Inside Out Neighborhood over at Pixar Pier in Disney's California Adventure. This attraction will feature the five emotions from the movies, Joy, Sadness, Anger, Fear, and Disgust. The attraction is set to open this summer and Disneyland has already been seen testing the new ride.
I adored the old Flik's Flyers ride but I also love Inside Out! I'm filled with joy (get it?) to see this redone ride over in the heart of Pixar Pier.
5. Tale of the Lion King at California Adventure
This summer at Disney's California Adventure you can see the Tale of the Lion King on the Palisades Stage. This 'traveling troupe of storytellers' features its own new musical scores, dangers, singers, drummers, and an overall group of 18 performers to tell the story of the Lion King. The performance is told in a contemporary story-theater style that retells the Lion King through language, song, and dance. I try to never miss the entertainment offered like this at Disneyland- they always find such talented performers!
6. Mickey's Philharmagic at California Adventure
This fan favorite at Walt Disney World recently opened in Disney's California Adventure where guests can enjoy a 3D movie featuring Mickey, Donald, and other popular Disney characters. As Donald sets up the orchestra for Mickey, he finds a conductor's baton along with Mickey's Sorcerer's Hat. Expect to see scenes from popular Disney movies like "Beauty and the Beast," "The Little Mermaid," "Peter Pan" and "Aladdin. I always love having a nice, air conditioned place to relax at during the afternoons and this new addition definitely makes my list.
7. World of Color at California Adventure
Now I realize World of Color isn't actually new at Disneyland but I included it in this list because of the long refurbishment it just completed! We missed the World of Color show our last two trips and I'm thrilled to see it again this summer. This colorful show features many beloved Disney characters and songs featured in a colorful water display in Paradise Bay in front of Pixar Pier. If you haven't seen this show, it's a must for your next vacation to Disneyland.
8. Pop-Up Disney! A Mickey Celebration in Downtown Disney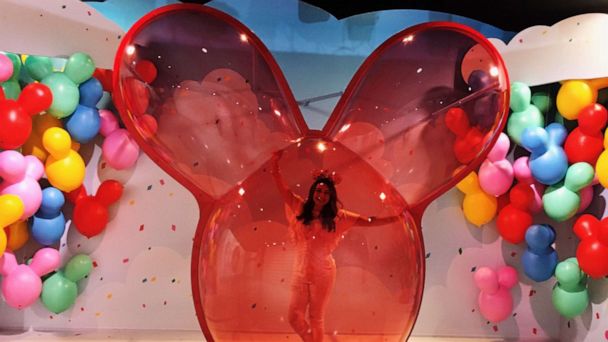 Pop-Up Disney! A Mickey Celebration is an Instagram heaven in Downtown Disney that pays homage to everyone's favorite Mouse! Each room in the exhibit features bright and visual displays that are meant to be interactive. These art installations also double as photo ops as guests can stand inside a life size Mickey balloon, sit on a super-sized Minnie Bow Sofa, pose as Steamboat Willie, and more. There's also a finale room that celebrates all things Mickey shaped at the Disney Parks which is a sight worth seeing. Currently this show has no end time announced but appears on the Disneyland calendar for the summer.
Start Planning Your Disneyland Vacation!
Now is the perfect time to start planning your vacation! The best way to get started is by subscribing to our FREE deals newsletter here. Subscribers receive helpful planning tips, Disney deals exclusive to our readers, and access to the lowest-priced park tickets around. Check out our other helpful resources for planning your trip: